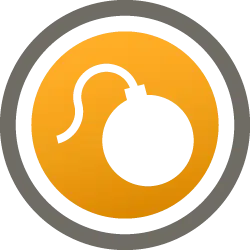 If you have important material levels that need to be monitored in Class I hazardous areas, you know that safe equipment is a necessity. What starts as a spark here, or a bit of overheated metal over there, can end up as a very loud (and costly) BOOM. APG's new True Echo™ Series PRX Explosion Proof Pulse Radar Level Transmitter is an excellent choice for safe and reliable level measurements in those hazardous areas. It combines the unparalleled accuracy of radar level measurement with several safety factors. Let's take a look.
Class I, II, and III Certifications
Many of our sensors carry Class I, Division 1 or Class I, Division 2 certifications. The PRX is our first sensor to carry certifications for use in Class II and Class III areas. This is because our ultrasonic sensors, pressure transducers, and continuous float level transmitters are great for use in liquid or gaseous environments (Class I), but can't handle dusty, particulate-filled-air applications. Radar is a fantastic technology for those situations, and the Class II and Class III certifications mean the PRX is approved for use around anything from regular old dust to explosive grains and incendiary-happy cotton fibers. The PRX even has an optional oil-water interface detection firmware upgrade for explosively-oily applications. It doesn't matter why your environment is explosive, the PRX can handle it.
High Temperature and High Pressure Options
And look, we can talk about Class I, II, or III Division 1 hazardous location certifications all day. But we all know that hazardous locations can be more than "just hazardous": some have high temperatures, others occur in high pressure situations, and plenty coincide with both. So successful level measurement instrumentation needs to be able to accommodate either or both conditions. And the PRX does. It can handle high temperatures (350°F/177°C or 572°F/300°C). Or it can do high pressures (up to 70 Bar/1015 PSI) at up to 176°F/80°C. You could even say the PRX keeps its cool under pressure.
IP68-Rated Housing
While much (but not all) of the emphasis in hazardous location ratings for equipment stems from the electrical and thermal characteristics of the equipment and associated circuitry, housing properties are important, too. All the explosion proof ratings won't do much good if a sensor's housing can't stand up to the elements. With an IP68 rating, the PRX is dust-tight and protected against immersion that extends beyond just a temporary dip. That's long-lasting toughness. And with 316L stainless steel or aluminum housing options, the PRX makes all that tough look good.
Why is the PRX an awesome choice for explosion proof level measurements? Let's review: Class I, II, AND III hazardous location certification; high temperature and high pressure options; and an IP68-rated housing that comes in 316L SS or aluminum. Good looking, long lasting, tough-tested sensors. Quality you can count on, especially in explosive situations.
Got more questions? Need help matching your level or pressure measurement needs to the best sensor for the job? Our Measurement Experts are ready to help. Give them a call or drop them an email today!
> !function(f,b,e,v,n,t,s) {if(f.fbq)return;n=f.fbq=function(){n.callMethod? n.callMethod.apply(n,arguments):n.queue.push(arguments)}; if(!f._fbq)f._fbq=n;n.push=n;n.loaded=!0;n.version='2.0'; n.queue=[];t=b.createElement(e);t.async=!0; t.src=v;s=b.getElementsByTagName(e)[0]; s.parentNode.insertBefore(t,s)}(window, document,'script', 'https://connect.facebook.net/en_US/fbevents.js'); fbq('init', '2241001876219184'); fbq('track', 'PageView');
> !function(f,b,e,v,n,t,s) {if(f.fbq)return;n=f.fbq=function(){n.callMethod? n.callMethod.apply(n,arguments):n.queue.push(arguments)}; if(!f._fbq)f._fbq=n;n.push=n;n.loaded=!0;n.version='2.0'; n.queue=[];t=b.createElement(e);t.async=!0; t.src=v;s=b.getElementsByTagName(e)[0]; s.parentNode.insertBefore(t,s)}(window, document,'script', 'https://connect.facebook.net/en_US/fbevents.js'); fbq('init', '2996670937328619'); fbq('track', 'PageView');