When it comes to choosing a liquid level sensor, the one that gives you the most advantages is the one you are going to choose. Whether the advantage is in price, availability, technical performance and specifications, or durability and reliability, the sensor that checks off the most boxes is going to win. The new MPI-E and MPI-R Intrinsically Safe Magnetostrictive Float Level Transmitters offer quite a nice pile of advantages, from quality design and manufacturing to precision measurements and configurable outputs. Let's take a look at three specific advantages the MPI-E/R gives you.
Advantage 1: World-wide Haz Loc Ratings
An immediate advantage gained by using the MPI-E or MPI-R comes from its ATEX/IECEx rating: world-wide Class I, Division 1 or Zone 0 installation capability. Whether your tanks are in New Hampshire, Norway, or Papua New Guinea, or even moving between them, the MPI-E/R is certified for use in hazardous locations wherever they may be. You don't have to worry about geographic limitations, because there just aren't may places where cCSAus, ATEX, and IECEx aren't accepted.
Advantage 2: Safety Made Easy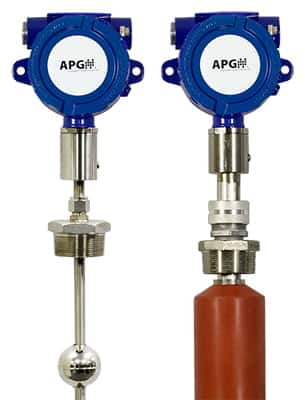 A second advantage also comes from the MPI-E/R's Intrinsically Safe rating: there's no need for IS barriers when paired with APG's MDI Intrinsically Safe Modbus Display and Controller. That means you are one easy installation away from a much safer level measurement solution. No installing explosion-proof conduit or IS barriers, and when you are done, no climbing up ladders and tanks to get readings. That's a lot of "no"s that add up to a big "Yes!"
Advantage 3: Modbus
The third advantage of using an MPI-E or MPI-R comes from the Modbus communication the probes use. Using Modbus allows you to have more precise control of your float level transmitter, from configuring your output to reflect a one-dimensional or three-dimensional calculation (distance/level vs volume), to calibrating float readings and full/empty distances. The MPI-E and MPI-R also have optional stem-mounted digital temperature sensors, giving you access to fluid temperatures at specific points in your tank. The flexibility and precision of Modbus is a tremendous advantage.
It's hard to argue with the advantages afforded by the MPI-E and MPI-R: world-wide hazardous location approvals, easy installation and increased safety, and all the flexibility and control of Modbus. And that's just the beginning! Grab a datasheet or contact our Measurement Experts today to see how you can take advantage of all that the MPI-E and MPI-R have to offer.

top photo credit: Roy Luck via flickr.com cc by 2.0 cropped, edited

> !function(f,b,e,v,n,t,s) {if(f.fbq)return;n=f.fbq=function(){n.callMethod? n.callMethod.apply(n,arguments):n.queue.push(arguments)}; if(!f._fbq)f._fbq=n;n.push=n;n.loaded=!0;n.version='2.0'; n.queue=[];t=b.createElement(e);t.async=!0; t.src=v;s=b.getElementsByTagName(e)[0]; s.parentNode.insertBefore(t,s)}(window, document,'script', 'https://connect.facebook.net/en_US/fbevents.js'); fbq('init', '2241001876219184'); fbq('track', 'PageView');
> !function(f,b,e,v,n,t,s) {if(f.fbq)return;n=f.fbq=function(){n.callMethod? n.callMethod.apply(n,arguments):n.queue.push(arguments)}; if(!f._fbq)f._fbq=n;n.push=n;n.loaded=!0;n.version='2.0'; n.queue=[];t=b.createElement(e);t.async=!0; t.src=v;s=b.getElementsByTagName(e)[0]; s.parentNode.insertBefore(t,s)}(window, document,'script', 'https://connect.facebook.net/en_US/fbevents.js'); fbq('init', '2996670937328619'); fbq('track', 'PageView');