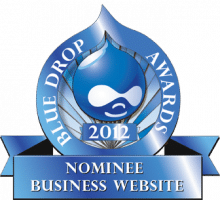 We have some exciting news! We were just nominated for the 2012 Blue Drop Awards, a prestigious website award!
Our category is "Best Business Website", nominated for our easy navigation scheme and our, as noted by our nominator, "well-kept blog" (we didn't say it).
We are honored at the nomination, and wanted to publicly thank our supporters who were so thoughtful. It was completely unexpected, and while there are a lot of great sites on the list – we're crossing our fingers!
You can check out the nomination here. Voting begins on March 27th, so swing on over and let your voice be heard for one of the few industrial sites nominated.

> !function(f,b,e,v,n,t,s) {if(f.fbq)return;n=f.fbq=function(){n.callMethod? n.callMethod.apply(n,arguments):n.queue.push(arguments)}; if(!f._fbq)f._fbq=n;n.push=n;n.loaded=!0;n.version='2.0'; n.queue=[];t=b.createElement(e);t.async=!0; t.src=v;s=b.getElementsByTagName(e)[0]; s.parentNode.insertBefore(t,s)}(window, document,'script', 'https://connect.facebook.net/en_US/fbevents.js'); fbq('init', '2241001876219184'); fbq('track', 'PageView');
> !function(f,b,e,v,n,t,s) {if(f.fbq)return;n=f.fbq=function(){n.callMethod? n.callMethod.apply(n,arguments):n.queue.push(arguments)}; if(!f._fbq)f._fbq=n;n.push=n;n.loaded=!0;n.version='2.0'; n.queue=[];t=b.createElement(e);t.async=!0; t.src=v;s=b.getElementsByTagName(e)[0]; s.parentNode.insertBefore(t,s)}(window, document,'script', 'https://connect.facebook.net/en_US/fbevents.js'); fbq('init', '2996670937328619'); fbq('track', 'PageView');