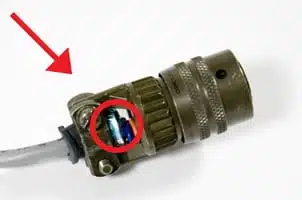 Here, the cable shield is tied to the case ground by way of the connector. Cable shielding must be connected to ground to work.
Electromagnetic Interference, or EMI, can cause problems in even sophisticated industrial control system when not properly protected. Instrumentation, such as a level sensor or a pressure transducer, can perform erratically, inaccurately, or not at all when exposed to EMI.
Simply put, EMI in an industrial setting is electrical noise that disrupts electrical circuits in instrumentation. These disruptions can range from simple signal degradation to a total loss of sensor functionality. EMI sources are any object that carries rapidly changing electrical currents. Typically, these would be machinery or voltage sources in close proximity to the affected instrumentation.
Following these simple few steps during installation will help keep EMI at a minimum. Note:  Always follow the National Electrical Code (NEC) and all local codes.
Always use properly shielded cables that are the appropriate gage for you application.
Never route DC cable (low power) next to AC cable (high power).
Make sure electrical grounds are terminated properly to prevent ground loops or potential ground shorts that can affect instrument functionality. For cable shielding to have any effect, it must be tied to ground (see picture above).
If possible install your instrumentation away from other machinery or voltage sources that produce large currents. For example, electrical motors, pumps, and motor control centers (MCCs) are all sources of electrical noise (EMI).
Proper installation and grounding of instrumentation will always ensure that EMI is kept minimal and that your equipment will provide years of service for your process or application.

> !function(f,b,e,v,n,t,s) {if(f.fbq)return;n=f.fbq=function(){n.callMethod? n.callMethod.apply(n,arguments):n.queue.push(arguments)}; if(!f._fbq)f._fbq=n;n.push=n;n.loaded=!0;n.version='2.0'; n.queue=[];t=b.createElement(e);t.async=!0; t.src=v;s=b.getElementsByTagName(e)[0]; s.parentNode.insertBefore(t,s)}(window, document,'script', 'https://connect.facebook.net/en_US/fbevents.js'); fbq('init', '2241001876219184'); fbq('track', 'PageView');
> !function(f,b,e,v,n,t,s) {if(f.fbq)return;n=f.fbq=function(){n.callMethod? n.callMethod.apply(n,arguments):n.queue.push(arguments)}; if(!f._fbq)f._fbq=n;n.push=n;n.loaded=!0;n.version='2.0'; n.queue=[];t=b.createElement(e);t.async=!0; t.src=v;s=b.getElementsByTagName(e)[0]; s.parentNode.insertBefore(t,s)}(window, document,'script', 'https://connect.facebook.net/en_US/fbevents.js'); fbq('init', '2996670937328619'); fbq('track', 'PageView');