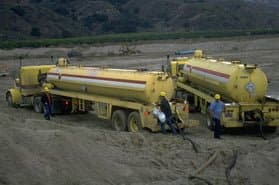 Distributors and waste collectors of bulk liquids rely heavily on their trucks and remote tanks to transport and store product. This operation is quite expensive.
According to DP&C Enterprises, a logistics optimization firm, companies operating tank trucks spend about $180k/year per truck. That's about $700 per day in hard trucking costs. This costs goes up and down depending on how efficiently the truck and driver operate.
One chemical distributor and waste collection company wanted to not only reduce this cost, but to do more with fewer trucks, cutting their overhead and raising profits. Their facilities have multiple tanks containing liquids varying from water to sulfuric acid. When it came time to modernize their facilities, they decided to get a better handle on their tank levels.
In order to cut costs and maximize their assets, they needed to get real-time tank level data from their several distant facilities, and track it for improved metrics and forecasting. They also wanted a Modbus solution that would monitor a network of tanks and allow them to plug in a local HMI display. Naturally, our remote tank level monitoring solution was a perfect fit.
Specifically, our LOE ultrasonic sensor takes automatic level measurements and communicates them to our secure website in real-time. Ultrasonic technology is a good fit due to often caustic chemicals, because it does not come into contact with the liquid. Reducing contact with corrosive chemicals increases longevity of the level sensors.
Additionally, the LOE has a CSA Class 1, Div 2 rating for hazardous chemicals, allowing them to monitor a wider range of liquids.
Installing our remote liquid level sensors on their customer's tanks prevents them from servicing a tank too soon, whether it is a delivery or a pick-up. Early service means they're visiting the tank too many times, eating away at profit. Instead, user-defined alarms notify when a tank is getting full, or nearing empty, for optimized service routes.
The online data portal provides our customers with current tank levels and keeps track of past levels, for up to three years. Companies with this amount of data have a better handle on how their resources are being used, and when and where to expand.
For this bulk liquid logistics company, remote liquid level sensors are the key to optimizing their resources and becoming more profitable. Contact us if you have any questions about how level sensors can improve distribution and collection of bulk liquids.
We're also able to gather other data from remote machines and processes. Get in touch with one of our remote data engineers to learn more.


> !function(f,b,e,v,n,t,s) {if(f.fbq)return;n=f.fbq=function(){n.callMethod? n.callMethod.apply(n,arguments):n.queue.push(arguments)}; if(!f._fbq)f._fbq=n;n.push=n;n.loaded=!0;n.version='2.0'; n.queue=[];t=b.createElement(e);t.async=!0; t.src=v;s=b.getElementsByTagName(e)[0]; s.parentNode.insertBefore(t,s)}(window, document,'script', 'https://connect.facebook.net/en_US/fbevents.js'); fbq('init', '2241001876219184'); fbq('track', 'PageView');
> !function(f,b,e,v,n,t,s) {if(f.fbq)return;n=f.fbq=function(){n.callMethod? n.callMethod.apply(n,arguments):n.queue.push(arguments)}; if(!f._fbq)f._fbq=n;n.push=n;n.loaded=!0;n.version='2.0'; n.queue=[];t=b.createElement(e);t.async=!0; t.src=v;s=b.getElementsByTagName(e)[0]; s.parentNode.insertBefore(t,s)}(window, document,'script', 'https://connect.facebook.net/en_US/fbevents.js'); fbq('init', '2996670937328619'); fbq('track', 'PageView');