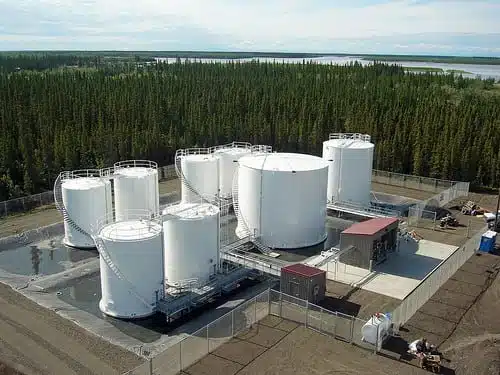 You don't ask for much.
You want to be able to control your Modbus sensor network, whether locally or remotely. Or both. You want automated, customizable alerts. You want data logging capabilities, and not just for reminiscing about the past; rather, you want enough data for both accurate forecasting and reliable trend identification.
Simple, right?
Right! It is simple! In fact, it's so simple we've got two solutions for you: the RST-5003 and the LOE Web Enable Controllers. Both can control up to 10 Modbus sensors, have embedded webpages for local Ethernet setup and configuration, and connect directly to www.levelandflow.com.
So, which one makes more sense for you? Let's take a look.
RST-5003 Web Enabled Modbus Network Control Module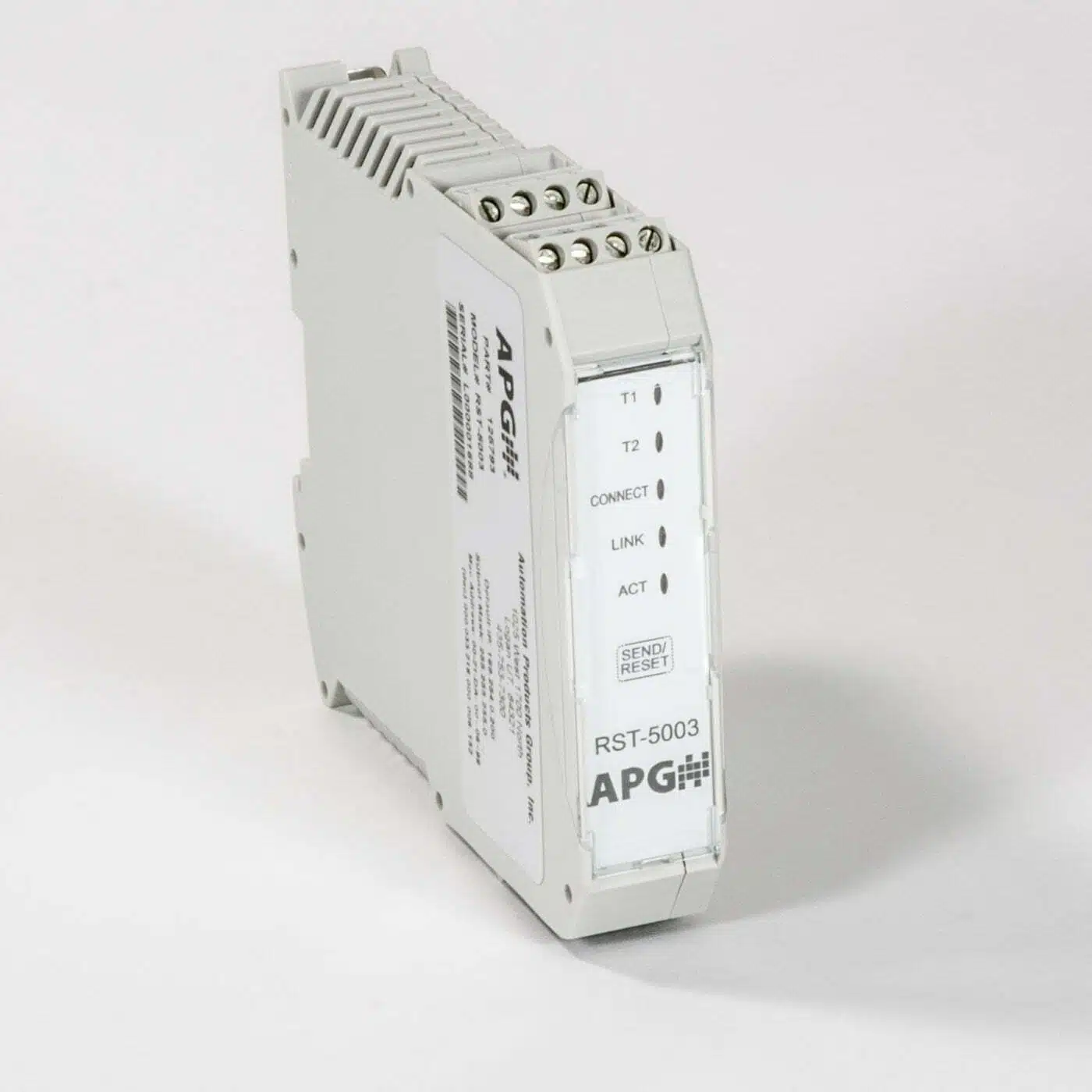 The RST-5003 is a 33 mm Din-Rail mounted controller. It can be powered via POE or 12-28 VDC, and is capable of monitoring or controlling up to 10 Modbus sensors, plus one 4-20 mA input, for a total of 11 sensors. The RST-5003 can also be used to provide power to its Modbus sensors, if its power source is sufficient.
The RST-5003 also has two inputs or outputs for switches (inputs) or relays (output), which are selected during the ordering process. Relay outputs (trip points) can be configured to activate or deactivate based on the reading from the 4-20 mA input. Switched inputs can be configured to activate an alarm at www.levelandflow.com on contact open, contact close, or contact continuously closed past a set time.
Since it is Din-Rail mounted, the RST-5003 does not come with any hazardous location classifications or IP ratings. There are LED indicators on the front face of the RST-5003 for Trip 1, Trip 2, External Website connection, and modem-style RJ-45 connection. There is also a Send/Reset button on the RST-5003's front face, allowing the user to manually initiate communication with www.levelandflow.com, or reset the RST-5003.
LOE Web Enabled Ultrasonic Sensor With Modbus Output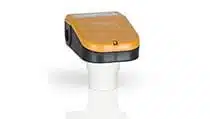 Rather than just a controller, the LOE is an ultrasonic sensor with the capability to control as many as 10 other Modbus sensors. As an ultrasonic sensor, the LOE can be configured with one of three transducers, with ranges up to 15, 25, or 40 feet. Depending on the transducer chosen, the LOE mounts on either 2" or 3" NPT threads. While the LOE does not carry hazardous location classifications, its polycarbonate/PET blend housing is IP65 rated.
As a controller, the LOE operates similarly to the RST-5003. It can monitor and control up to 10 Modbus sensors, it has two dedicated relay outputs, and can be powered by 12-28 VDC or POE. The LOE also has a Send/Reset button and a Comm OK light, similar to those on the RST-5003. And, like the RST-5003, the LOE and its Modbus network can be accessed on a LAN via Ethernet, or from anywhere with an internet connection via www.levelandflow.com.
Distinctions
Obviously, both the RST-5003 and LOE are excellent products. So, how do you choose between them? (You probably already know what I'm going to say, don't you.) It depends on your application. (Yup, you did.)
Advantage: RST-5003

The RST-5003 is the controller you want if:
You already have a 4-20 mA sensor that you would like to incorporate in your network.
You have a control cabinet with Din-Rails and an easily accessible internet connection.
You want to configure system alarms based on switched inputs.
Advantage: LOE

The LOE is the better choice for you if:
You need eleven sensors, and none of them have (or will have) a 4-20 mA output.
Your internet connection is outside, or can be outside.
You don't need switched inputs.
Advantage: You!
Either way, the flexibility of access and control that the RST-5003 and LOE give you via www.levelandflow.com means that your work is easier. Both can handle any combination of up to 10 Modbus sensors (MPX, MNU, PT-400, and PT-500), allowing you to manage all of them (including system alarms) through www.levelandflow.com. Both can be powered with POE, or 12-24 VDC, and can be used to power the controlled Modbus sensors. And both give you the peace of mind that you can access your system anywhere, anytime.
Have more questions about the RST-5003 or the LOE? Want to know more about APG's Tank Cloud service, and how you can put www.levelandflow.com to work for you? Our Measurement Experts would love to help you. Give them a call, drop them an email, or live chat with them today.

---
top photo credit: USDAgov via flickr cc
> !function(f,b,e,v,n,t,s) {if(f.fbq)return;n=f.fbq=function(){n.callMethod? n.callMethod.apply(n,arguments):n.queue.push(arguments)}; if(!f._fbq)f._fbq=n;n.push=n;n.loaded=!0;n.version='2.0'; n.queue=[];t=b.createElement(e);t.async=!0; t.src=v;s=b.getElementsByTagName(e)[0]; s.parentNode.insertBefore(t,s)}(window, document,'script', 'https://connect.facebook.net/en_US/fbevents.js'); fbq('init', '2241001876219184'); fbq('track', 'PageView');
> !function(f,b,e,v,n,t,s) {if(f.fbq)return;n=f.fbq=function(){n.callMethod? n.callMethod.apply(n,arguments):n.queue.push(arguments)}; if(!f._fbq)f._fbq=n;n.push=n;n.loaded=!0;n.version='2.0'; n.queue=[];t=b.createElement(e);t.async=!0; t.src=v;s=b.getElementsByTagName(e)[0]; s.parentNode.insertBefore(t,s)}(window, document,'script', 'https://connect.facebook.net/en_US/fbevents.js'); fbq('init', '2996670937328619'); fbq('track', 'PageView');