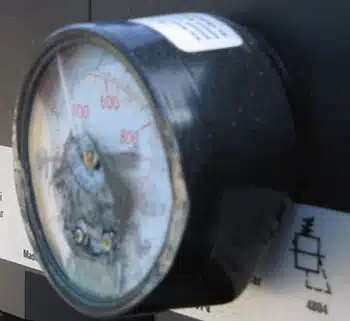 For level and pressure monitoring, dial gauges are all kinds of fun and cool--if you are into retro, steampunk-style fantasy. If you have actual tanks, pipes, vessels, or processes that need to be monitored, dial gauges only make sense if you don't like options, because dial gauges have no options. They only show one reading, in one place, with no other connection options. The Series DDD Din Mount Digital Display Panel Meter from APG, on the other hand is built for practical versatility, not fantasy. From installation flexibility to input and output options, the DDD has a range of features that make dial gauges look, well, obsolete.
Versatile Installation
The Din Mount Digital Display Panel Meter gives you tremendous flexibility because of its versatile installation possibilities. While din rails are required for mounting the DDD, its small size (5" x 2.5" face dimensions) means it can fit almost anywhere you need it. And since the face carries a NEMA 4 / IP65 rating, a properly mounted DDD in a correspondingly rated panel or control box can be installed indoors or outdoors. While some panel meters fall victim to glare in direct sun, or the darkness of deep shadows, the DDD has eight user-selectable LED intensity levels, and can be ordered as the DBD with Sunlight Readable Bright Display, so you can read it no matter where you put it. Wherever you need it, the DDD is flexible enough to go.
Versatile Inputs
Installation isn't the only aspect of the DDD with versatility: it also offers several analog input options. The DDD can be configured to monitor a sensor with either a current or voltage output. Current inputs can be 4-20 mA or 0-20 mA. Voltage inputs can be 0-5 VDC, 1-5 VDC, or 0-10 VDC. And you can even use the DDD to power the sensor! Depending on how you power the DDD, it can supply up to 100 mA (VDC input power) or up to 200 mA (VAC input power).
Versatile Outputs
If input options are good, having input options and output options is even better. Once again, this is an area where the DDD has versatility to spare. First, there's the isolated 4-20 mA output. You can use it to tie your sensor reading into your control system. (Yes, even your VDC sensor input gets translated to a 4-20 mA signal.) You can even tie it into an RST-5003 Web-Enabled Control Module, so you can see the reading on APG's web-based Tank Cloud Level Monitoring service. And, since it's isolated, the 4-20 mA output is physically independent of the sensor circuit, so you don't have to worry about supporting multiple monitoring/display devices on the same loop as the sensor. Then there are the two SPDT relay outputs you can use for alarm horns or lights. Or pump controls. Or even, if you are really fancy, alternating pump control. Or, if you don't want an output, you can use the output terminals for a 24 VDC power supply (up to 40 mA). Definitely versatility to spare.
Clearly, if you don't need flexibility and versatility, the Din Mount Digital Display Panel Meter might not be for you. But if you can use a panel meter that has versatile installation options, versatile input options, and versatile output options, the DDD is your option! From mounting to measuring and monitoring, the DDD's flexibility make it an easy choice for all your digital display needs.
Want to know which Digital Panel Meter will best fit your needs? Send our Measurement Experts an email or give them a call. We'd love to help you find the right sensors and displays.

---
top photo credit: John Douglas via flickr cc cropped
> !function(f,b,e,v,n,t,s) {if(f.fbq)return;n=f.fbq=function(){n.callMethod? n.callMethod.apply(n,arguments):n.queue.push(arguments)}; if(!f._fbq)f._fbq=n;n.push=n;n.loaded=!0;n.version='2.0'; n.queue=[];t=b.createElement(e);t.async=!0; t.src=v;s=b.getElementsByTagName(e)[0]; s.parentNode.insertBefore(t,s)}(window, document,'script', 'https://connect.facebook.net/en_US/fbevents.js'); fbq('init', '2241001876219184'); fbq('track', 'PageView');
> !function(f,b,e,v,n,t,s) {if(f.fbq)return;n=f.fbq=function(){n.callMethod? n.callMethod.apply(n,arguments):n.queue.push(arguments)}; if(!f._fbq)f._fbq=n;n.push=n;n.loaded=!0;n.version='2.0'; n.queue=[];t=b.createElement(e);t.async=!0; t.src=v;s=b.getElementsByTagName(e)[0]; s.parentNode.insertBefore(t,s)}(window, document,'script', 'https://connect.facebook.net/en_US/fbevents.js'); fbq('init', '2996670937328619'); fbq('track', 'PageView');