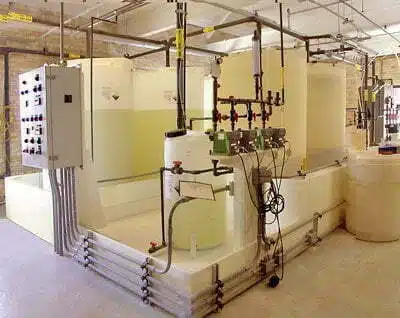 In some tall tank applications, the cost for a rigid stem magnetostrictive probe can be expensive when including the cost to ship probes longer than 25 ft. probe which require a crate. Often a crane is needed to help install such a tall sensor. In installations that have limited space above the tank, a rigid stem probe would not be a feasible choice. The options available for accurate tank level measurement can then diminish quickly.
APG provides a solution for accurate liquid measurement in tall tanks that won't break the bank. It is the Magnetostrictive Probe with a flexible stem (MPX-F). The MPX-F can be built in lengths up to 32 ft.
With its 7/8" diameter 316SS flex tubing with braid, it can be installed in almost any type of tank. The MPX-F Flexible Stem Magnetostrictive Float Level Transmitter has the same features as the rugged stem MPX models including the following:
Class 1 Division 1 hazardous location rating.
Highly accurate and repeatable readings (+/-0.05% full scale).
Single or dual level (interface) measurement.
4/20mA or RS485 (Modbus RTU) output.
When the MPX-F magnetostrictive probe needs to be removed from a tank, it loops together like a rope or lasso. Being flexible like this, the shipping costs for the MPX-F are less expensive.
The MPX-F probe is in its own right the best solution for liquid level measurement in tall tanks and in tanks where space and headroom are limited.
> !function(f,b,e,v,n,t,s) {if(f.fbq)return;n=f.fbq=function(){n.callMethod? n.callMethod.apply(n,arguments):n.queue.push(arguments)}; if(!f._fbq)f._fbq=n;n.push=n;n.loaded=!0;n.version='2.0'; n.queue=[];t=b.createElement(e);t.async=!0; t.src=v;s=b.getElementsByTagName(e)[0]; s.parentNode.insertBefore(t,s)}(window, document,'script', 'https://connect.facebook.net/en_US/fbevents.js'); fbq('init', '2241001876219184'); fbq('track', 'PageView');
> !function(f,b,e,v,n,t,s) {if(f.fbq)return;n=f.fbq=function(){n.callMethod? n.callMethod.apply(n,arguments):n.queue.push(arguments)}; if(!f._fbq)f._fbq=n;n.push=n;n.loaded=!0;n.version='2.0'; n.queue=[];t=b.createElement(e);t.async=!0; t.src=v;s=b.getElementsByTagName(e)[0]; s.parentNode.insertBefore(t,s)}(window, document,'script', 'https://connect.facebook.net/en_US/fbevents.js'); fbq('init', '2996670937328619'); fbq('track', 'PageView');