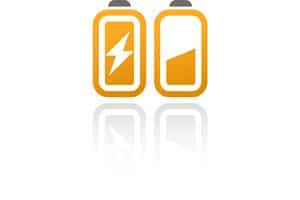 When replacing an analog pressure gauge with a digital, you will enjoy many advantages from greater accuracy, resolution, and a bunch of pre-programmed functions. However, you are going to have to power the gauge, a slight disadvantage among a long list of improvements.
So to make this as easy as possible, we have a few different ways to go about it. The options to power digital pressure gauges are battery, and DC Voltage, and 4-20mA current loop.
Batteries
There are a few different battery options. The PG5 uses a 9V, the PG7 uses two AA batteries, and the PG10 uses two C batteries. There are both Alkaline and Lithium options for each. We did this for one reason: to give you the most options that would fit inside the pressure gauge housing.
Some benefits of using a Lithium battery are improved battery life and longer shelf life. But the cost is much greater than an Alkaline. Depending on the ease of changing the batteries of the pressure gauge, the additional cost may be worthwhile.
The battery performance, for both Alkaline and Lithium in each model, is shown in the table below:
 

Digital Pressure Gauge Battery Performance

Model

Size

Alkaline Life

Lithium Life

9V

600 Hr

1000 Hr

(2) AA

5000 Hr

7000 Hr

(2) C

8000 Hr

14000 Hr
DC Voltage
If power is readily available, a great way to power your digital pressure gauge is using an AC/DC wall transformer. This transformer requires an output of 9-28 VDC, and can source at least 30mA. We provide this option so you can eliminate the changing and disposal of batteries.
Another option is to have a battery backup with external power. This switches to battery power when there is a power outage.
4-20mA Loop Powered
The 4-20mA current loop option is powered with the same 9-28 VDC power supply. The difference between the 4-20mA and the external power is the 4-20mA outputs the current in the loop that is correlated to the pressure reading on the display. The loop current then can be measured with a current meter, PLC, or other similar equipment.
We designed our digital gauges to give you comprehensive options to fit your application, and the surrounding environment. If you have questions regarding our pressure gauge, feel free to contact us. You can also read up on our datasheets by visiting the product web pages, or by checking out our awesome support section.

> !function(f,b,e,v,n,t,s) {if(f.fbq)return;n=f.fbq=function(){n.callMethod? n.callMethod.apply(n,arguments):n.queue.push(arguments)}; if(!f._fbq)f._fbq=n;n.push=n;n.loaded=!0;n.version='2.0'; n.queue=[];t=b.createElement(e);t.async=!0; t.src=v;s=b.getElementsByTagName(e)[0]; s.parentNode.insertBefore(t,s)}(window, document,'script', 'https://connect.facebook.net/en_US/fbevents.js'); fbq('init', '2241001876219184'); fbq('track', 'PageView');
> !function(f,b,e,v,n,t,s) {if(f.fbq)return;n=f.fbq=function(){n.callMethod? n.callMethod.apply(n,arguments):n.queue.push(arguments)}; if(!f._fbq)f._fbq=n;n.push=n;n.loaded=!0;n.version='2.0'; n.queue=[];t=b.createElement(e);t.async=!0; t.src=v;s=b.getElementsByTagName(e)[0]; s.parentNode.insertBefore(t,s)}(window, document,'script', 'https://connect.facebook.net/en_US/fbevents.js'); fbq('init', '2996670937328619'); fbq('track', 'PageView');