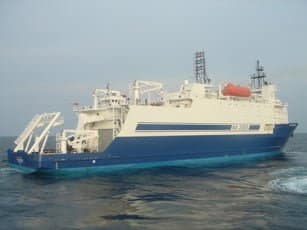 Every day millions of gallons of Methanol (wood alcohol) are being transported by supply ships to offshore oil rigs located in the Gulf of Mexico.
Methanol is used to keep the oil and gas flow lines from freezing, becoming restricted, or blocked with build up during drilling operations.
The methanol tanks on the supply ships are pressurized and all liquid level indicators must be rated intrinsically safe. It is also highly recommended that tank level sensors have a Product Design Assessment Certificate (PDA) from the American Bureau of Shipping (ABS).
We were asked to specify accurate, continuous level indicators that would meet these specifications.
The solutions were two RPM resistive chain liquid level indicators. The stem lengths needed were 248 and 286 inches.
As stated by the ABS, a PDA is the pre-approval of a product for use on a variety of ABS class ships.
"The PDA reduces the turnaround time for approval on a specific ship. When a specific ship is chosen, the technical staff would then verify that the product, as already approved, is suitable for the intended use. This can be done with a simple review of the PDA and not require submittal of further documentation from the manufacturer".
We submitted design information for the RPM liquid level indicators to be reviewed by ABS sanctioned engineers for conformance to ABS specifications for installation on a maritime vessel.
We now provide intrinsically safe and ABS approved RPM liquid level indicators for ships that serve the offshore oil rigs. These shipments of methanol are vital to the success of oil drilling operations in the Gulf of Mexico.
Contact us if you have any questions about this application, or how you can use a liquid level indicator to monitor the level in your tanks.

> !function(f,b,e,v,n,t,s) {if(f.fbq)return;n=f.fbq=function(){n.callMethod? n.callMethod.apply(n,arguments):n.queue.push(arguments)}; if(!f._fbq)f._fbq=n;n.push=n;n.loaded=!0;n.version='2.0'; n.queue=[];t=b.createElement(e);t.async=!0; t.src=v;s=b.getElementsByTagName(e)[0]; s.parentNode.insertBefore(t,s)}(window, document,'script', 'https://connect.facebook.net/en_US/fbevents.js'); fbq('init', '2241001876219184'); fbq('track', 'PageView');
> !function(f,b,e,v,n,t,s) {if(f.fbq)return;n=f.fbq=function(){n.callMethod? n.callMethod.apply(n,arguments):n.queue.push(arguments)}; if(!f._fbq)f._fbq=n;n.push=n;n.loaded=!0;n.version='2.0'; n.queue=[];t=b.createElement(e);t.async=!0; t.src=v;s=b.getElementsByTagName(e)[0]; s.parentNode.insertBefore(t,s)}(window, document,'script', 'https://connect.facebook.net/en_US/fbevents.js'); fbq('init', '2996670937328619'); fbq('track', 'PageView');