The Field Survival Guide is a series of articles that show you how to overcome common problems you run into out in the wild. It's what MacGyver would do if he were in your shoes.
Ever wondered how to mount an ultrasonic in the open air, above a body of liquid in a stream or pond?
The truth is you can mount an ultrasonic sensor above open water however you want – as long as it follows the basic rules of ultrasonic mounting. Here are the rules again, just to refresh your memory:
The sensor must be perpendicular to the target. The sound waves have to return to the sensor in order to provide a measurement.
The sensor has to be far enough away to account for the blanking distance (dead band).
The sound waves must be able to travel uninterrupted to and from the target. Even small bumps on the side of a tank can send a signal back to the sensor, resulting in a false reading.
Now that we've reviewed the fundamental concepts of ultrasonic sensor mounting, we'll show you how one customer achieved optimal results.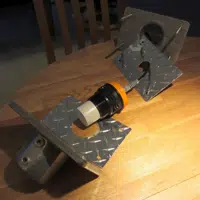 About an hour south of Cleveland, OH is a small dam where the tail waters needed measurement. So they chose our LPU-2428 model, which is capable of both level and open channel flow. They built a boom with a specialized bracket for holding the sensor and suspended it above the water in an ideal location.
This picture details how the bracket was constructed. You can see that they are careful to keep the sensor perpendicular to the surface of the water. The bottom piece is a bit of a tube, which can trap ultrasonic sound waves if not executed well. You can see it is very short and has rounded edges, allowing the sound waves to pass through uninterrupted.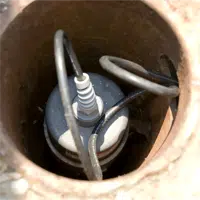 On another dam, this time in our hometown of Logan, UT, an ultrasonic sensor is used to monitor flow of water into an irrigation canal. However, instead of using a boom to suspend the sensor above the water, they have bored a hole through a concrete bridge above the water and installed a stilling well.
With a smooth-walled stilling well, the sound waves are directed to a target that is isolated from the turmoil of fast moving water. This gives an ideal target and improves measurement consistency.
While the concept is essentially the same, you can execute it in a number of ways. Use your imagination! And send us pictures of your sensor mounts! We would be happy to feature your solution in our blog!
As always, contact us if you have any questions.

> !function(f,b,e,v,n,t,s) {if(f.fbq)return;n=f.fbq=function(){n.callMethod? n.callMethod.apply(n,arguments):n.queue.push(arguments)}; if(!f._fbq)f._fbq=n;n.push=n;n.loaded=!0;n.version='2.0'; n.queue=[];t=b.createElement(e);t.async=!0; t.src=v;s=b.getElementsByTagName(e)[0]; s.parentNode.insertBefore(t,s)}(window, document,'script', 'https://connect.facebook.net/en_US/fbevents.js'); fbq('init', '2241001876219184'); fbq('track', 'PageView');
> !function(f,b,e,v,n,t,s) {if(f.fbq)return;n=f.fbq=function(){n.callMethod? n.callMethod.apply(n,arguments):n.queue.push(arguments)}; if(!f._fbq)f._fbq=n;n.push=n;n.loaded=!0;n.version='2.0'; n.queue=[];t=b.createElement(e);t.async=!0; t.src=v;s=b.getElementsByTagName(e)[0]; s.parentNode.insertBefore(t,s)}(window, document,'script', 'https://connect.facebook.net/en_US/fbevents.js'); fbq('init', '2996670937328619'); fbq('track', 'PageView');