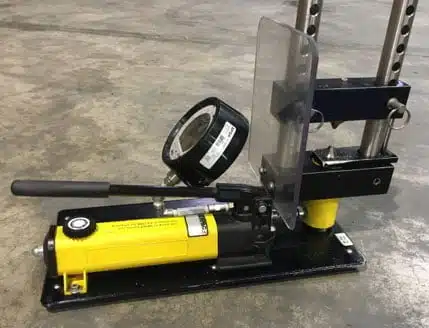 In the civil, mining and geotechnical engineering realms, point load testing of core rock samples and irregular rock fragments are used to determine rock strength and rock compressive strength. This data is vital in when building tunnels, bridges and other buildings, where rock or ground integrity is always crucial to the support of structures.
The PG10 Digital Pressure Gauge with its highly visible 2/3" LCD digits and 4.5 diameter face, is being used to monitor the force pressure in this type of testing. The PG10 is calibrated to read 99.71KN (kilo-newtons) at 10000 PSI.
The PG10 digital gauge has an all stainless steel, highly accurate MEMS sensor. It is resistant to most typical exposures of vibration and shock. With these features and its many output options for alarm control and data acquisition, the PG10 is a perfect choice for use in point load testing.
> !function(f,b,e,v,n,t,s) {if(f.fbq)return;n=f.fbq=function(){n.callMethod? n.callMethod.apply(n,arguments):n.queue.push(arguments)}; if(!f._fbq)f._fbq=n;n.push=n;n.loaded=!0;n.version='2.0'; n.queue=[];t=b.createElement(e);t.async=!0; t.src=v;s=b.getElementsByTagName(e)[0]; s.parentNode.insertBefore(t,s)}(window, document,'script', 'https://connect.facebook.net/en_US/fbevents.js'); fbq('init', '2241001876219184'); fbq('track', 'PageView');
> !function(f,b,e,v,n,t,s) {if(f.fbq)return;n=f.fbq=function(){n.callMethod? n.callMethod.apply(n,arguments):n.queue.push(arguments)}; if(!f._fbq)f._fbq=n;n.push=n;n.loaded=!0;n.version='2.0'; n.queue=[];t=b.createElement(e);t.async=!0; t.src=v;s=b.getElementsByTagName(e)[0]; s.parentNode.insertBefore(t,s)}(window, document,'script', 'https://connect.facebook.net/en_US/fbevents.js'); fbq('init', '2996670937328619'); fbq('track', 'PageView');