In April we introduced our newest wastewater submersible pressure transducer, the Series PT-510W. The Series PT-510W is an OEM-ready submersible transducer, with a maximum depth of 46 feet. Made of 18-8 stainless steel, with 1.7" H x 3.6"Ø protective cage around the transducer, the Series PT-510W is perfect for accurate and reliable level measurements in lift stations.
One obvious advantage of using the PT-510W in a lift station is the 4-20 mA output. Wiring is simple: with just two wires you get continuous level measurement, and your control system gets everything it needs for pump control and level-based alarms. No multiple floats, no float swing settings, no hysteresis problems, no huge bundles of cable coming up from the pit. Just two wires. And because the PT-510W runs on 4-20 mA, voltage drop is not a signal loss concern.
Download Level Transmitter Datasheets & Manuals Here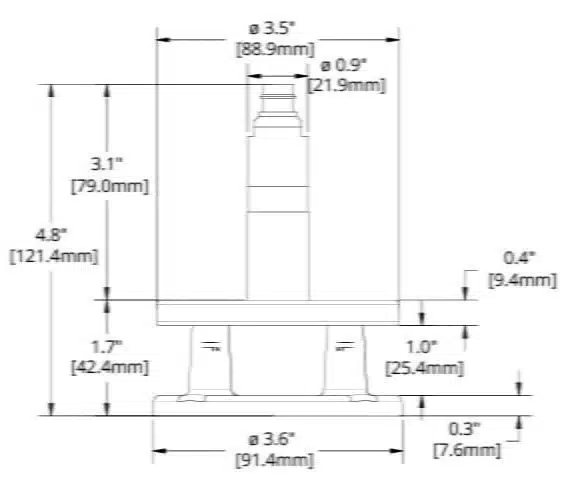 A second advantage of using the PT-510W for lift station level measurement is its size. Even including the protective cage, the PT-510W is less than 5" long (4.8" / 121.4mm). This means it won't take up much space in an already crowded pit. And with a full inch (25.4mm) of clearance between the plates of the protective cage, you don't have to worry about clogging. Small pieces will flow through, and because the plates are 0.4" (9.4mm) and 0.3" (7.6mm) thick, larger pieces will bounce off, rather than sticking.
The PT-510W scores a final advantage with the materials we use to make it. The sensor body is all 18-8 stainless steel, with a neoprene seal, and the 18-8 protective cage. So, no matter how concentrated the mix gets in the lift station pit, it won't corrode the sensor.
Taken all together, the Series PT-510W is a long lasting, stable, easy to use choice for lift station level measurement and pump control. It really is that simple.
Need more? You can check out the Series PT-510W for yourself, or drop our Measurement Experts a line. You can even visit us on Facebook and tell us how the PT-510 meets your needs.
> !function(f,b,e,v,n,t,s) {if(f.fbq)return;n=f.fbq=function(){n.callMethod? n.callMethod.apply(n,arguments):n.queue.push(arguments)}; if(!f._fbq)f._fbq=n;n.push=n;n.loaded=!0;n.version='2.0'; n.queue=[];t=b.createElement(e);t.async=!0; t.src=v;s=b.getElementsByTagName(e)[0]; s.parentNode.insertBefore(t,s)}(window, document,'script', 'https://connect.facebook.net/en_US/fbevents.js'); fbq('init', '2241001876219184'); fbq('track', 'PageView');
> !function(f,b,e,v,n,t,s) {if(f.fbq)return;n=f.fbq=function(){n.callMethod? n.callMethod.apply(n,arguments):n.queue.push(arguments)}; if(!f._fbq)f._fbq=n;n.push=n;n.loaded=!0;n.version='2.0'; n.queue=[];t=b.createElement(e);t.async=!0; t.src=v;s=b.getElementsByTagName(e)[0]; s.parentNode.insertBefore(t,s)}(window, document,'script', 'https://connect.facebook.net/en_US/fbevents.js'); fbq('init', '2996670937328619'); fbq('track', 'PageView');