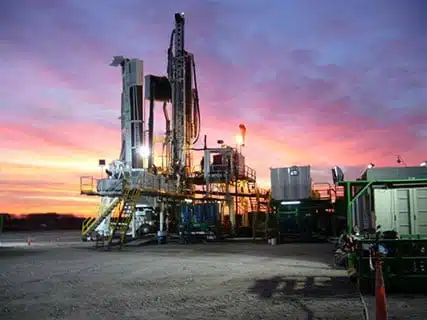 One of our customers has developed a groundbreaking water re-use system for oil & gas drilling rigs. This development is a critical one as water use in the oil & gas industry has long been very high. Concerns over water use and contamination are important and one that our customer takes seriously.
They have created a graywater system that harvests wastewater from living quarters, treats it, and stores it for various uses on the rig, such as power washing and cementing.
The company supplies fresh water to rigs and uses it's treatment equipment to re-use as much water as possible. Our Tank Cloud solution was chosen to remotely monitor both the supply and treatment tanks. Knowing the tank levels in real time helps them plan water deliveries and watch for any problems in the treatment equipment.
Tank Cloud's robust alarming features are critical for helping our customer ensure reliable service in very harsh weather conditions. Tank level alarms can be passive, alerting you only as you log-in to the system, or active, initiated by the sensor the moment a problem arises and sent to key personnel via email and text messages.
The alarms even include an abrupt change option. In order to use the abrupt change alarm, you simply set an amount of change and a window of time. If the change happens within the window of time, it will trigger an active alarm for immediate action.
Another Tank Cloud feature used by our customer is the data logging service. As they carefully analyze usage trends, they have access to greater insights and are able to offer expert service to their customers.
Our customer is using all of these monitoring and alarming functions to stay actively on top of their remote equipment and how it is helping their customers. Their innovative approach to reducing water usage on oil & gas rigs is an important step in protecting our water resources.
Not only are they making the world a better place, but they're also intensely interesting in taking care of their customers and providing a level of service far above the norm!
Let us know if you have any questions or concerns about remote tank level monitoring, data logging, or alarms. We've developed quite the expertise over the last decade of building remotely connected sensors and integrating with a variety of communication equipment.

---
top photo credit: Nestor Galina via flickr cc
> !function(f,b,e,v,n,t,s) {if(f.fbq)return;n=f.fbq=function(){n.callMethod? n.callMethod.apply(n,arguments):n.queue.push(arguments)}; if(!f._fbq)f._fbq=n;n.push=n;n.loaded=!0;n.version='2.0'; n.queue=[];t=b.createElement(e);t.async=!0; t.src=v;s=b.getElementsByTagName(e)[0]; s.parentNode.insertBefore(t,s)}(window, document,'script', 'https://connect.facebook.net/en_US/fbevents.js'); fbq('init', '2241001876219184'); fbq('track', 'PageView');
> !function(f,b,e,v,n,t,s) {if(f.fbq)return;n=f.fbq=function(){n.callMethod? n.callMethod.apply(n,arguments):n.queue.push(arguments)}; if(!f._fbq)f._fbq=n;n.push=n;n.loaded=!0;n.version='2.0'; n.queue=[];t=b.createElement(e);t.async=!0; t.src=v;s=b.getElementsByTagName(e)[0]; s.parentNode.insertBefore(t,s)}(window, document,'script', 'https://connect.facebook.net/en_US/fbevents.js'); fbq('init', '2996670937328619'); fbq('track', 'PageView');