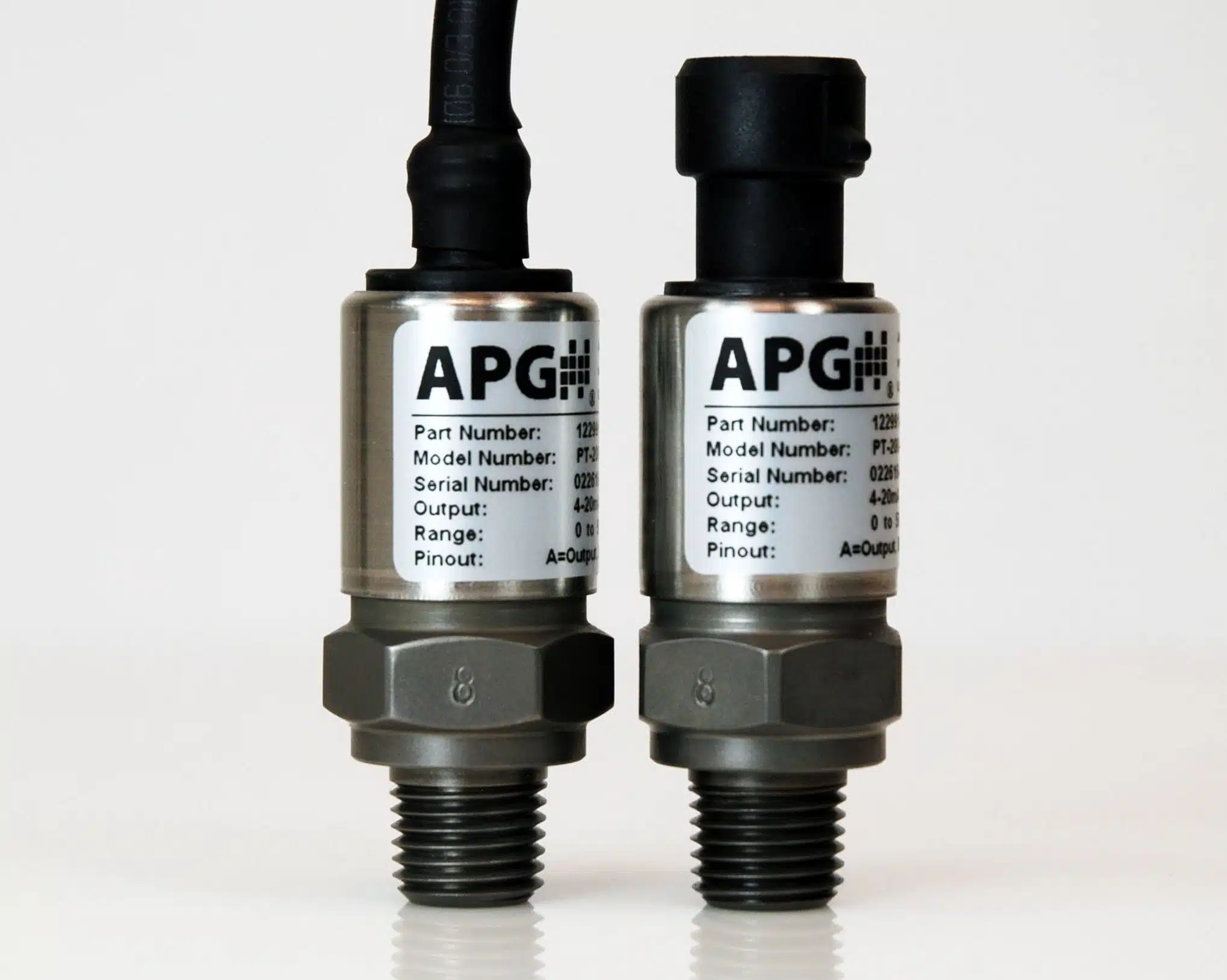 Starting at $130
LOGAN, UT – Automation Products Group, Inc. (APG) introduced a new pressure transducer, the series PT-200 1% Industrial Pressure Transducer.
The series PT-200 1% Industrial Pressure Transmitters are rugged, general purpose sensors that offer reliable and accurate measurements under harsh conditions.
"The PT-200 Pressure Transducer was developed for all types of industrial applications," said Josh Waters, Director of Sales at APG. "The design is based on high temperature, inorganically bonded, media isolated, piezoresistive technology and offers reliable and accurate measurements under harsh environmental conditions. Robust construction of the PT-200 provides stable operation when subjected to shock and vibration. Suitable for use in OEM machinery, process control, automation, plastic and alloy injection molding machines, hydraulic pumps, and many more applications."
Series PT-200's come with one of two connections: three-conductor shielded cable, or Packard connector. Their compact enclosure size (less than two inches from hex nut to electrical connection) means they fit in all your tight spots.
With 17-4PH stainless steel wetted parts, and an IP65-rated body, the series PT-200 is an excellent choice for economic, accurate pressure measurements in tough environments.
Features of the series PT-200 include:
1% BSFL Accuracy
4-20 mA Output
Compensated Temperature Range: 32° to 185° F (0° to 85° C)
Wetted Materials: 17-4PH SS
IP65 Rated Enclosure
About Automation Products Group

Automation Products Group, Inc. (APG) is a supplier of innovative and differentiated products, solutions, and services for industrial process measurement and control. Technologies include pressure, flow, level control, analytics, and dedicated flexible control, using state of the art methodologies. Our customers include OEM's, integrators, distributors and end users. APG's goal is to provide reliable products and solutions supported with exceptional customer service.
Media Contact: APG Sales, sales@apgsensors.com, 1-888-525-7300
> !function(f,b,e,v,n,t,s) {if(f.fbq)return;n=f.fbq=function(){n.callMethod? n.callMethod.apply(n,arguments):n.queue.push(arguments)}; if(!f._fbq)f._fbq=n;n.push=n;n.loaded=!0;n.version='2.0'; n.queue=[];t=b.createElement(e);t.async=!0; t.src=v;s=b.getElementsByTagName(e)[0]; s.parentNode.insertBefore(t,s)}(window, document,'script', 'https://connect.facebook.net/en_US/fbevents.js'); fbq('init', '2241001876219184'); fbq('track', 'PageView');
> !function(f,b,e,v,n,t,s) {if(f.fbq)return;n=f.fbq=function(){n.callMethod? n.callMethod.apply(n,arguments):n.queue.push(arguments)}; if(!f._fbq)f._fbq=n;n.push=n;n.loaded=!0;n.version='2.0'; n.queue=[];t=b.createElement(e);t.async=!0; t.src=v;s=b.getElementsByTagName(e)[0]; s.parentNode.insertBefore(t,s)}(window, document,'script', 'https://connect.facebook.net/en_US/fbevents.js'); fbq('init', '2996670937328619'); fbq('track', 'PageView');