We recently partnered with Design News to bring you a webcast on the several continuous level measurement technologies for tanks. Karl Reid, our Product Line Manager and overall measurement technology expert spent 15 minutes discussing the pros and cons of different tank level measurement technologies with Design News, and we captured the whole event for you in an on-demand webcast.
As promised in the webcast, here is a matrix outlining the different technologies and their typical characteristics. (These are general "rules-of-thumb" and do not apply globally. Your manufacturer and application will determine performance specs on any given technology and sensor.) Feel free to reach out to our Measurement Experts if you have any questions.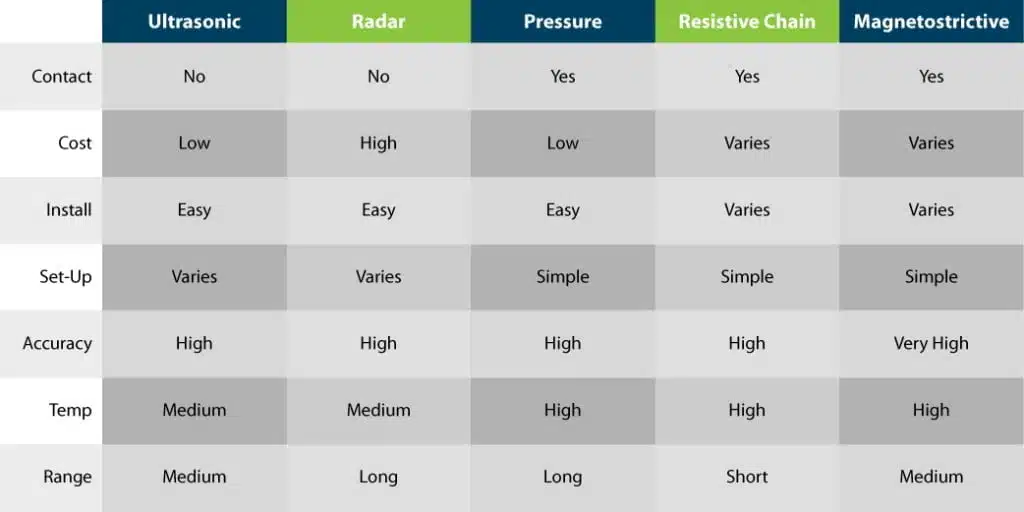 View the webcast here. Registration is required.
> !function(f,b,e,v,n,t,s) {if(f.fbq)return;n=f.fbq=function(){n.callMethod? n.callMethod.apply(n,arguments):n.queue.push(arguments)}; if(!f._fbq)f._fbq=n;n.push=n;n.loaded=!0;n.version='2.0'; n.queue=[];t=b.createElement(e);t.async=!0; t.src=v;s=b.getElementsByTagName(e)[0]; s.parentNode.insertBefore(t,s)}(window, document,'script', 'https://connect.facebook.net/en_US/fbevents.js'); fbq('init', '2241001876219184'); fbq('track', 'PageView');
> !function(f,b,e,v,n,t,s) {if(f.fbq)return;n=f.fbq=function(){n.callMethod? n.callMethod.apply(n,arguments):n.queue.push(arguments)}; if(!f._fbq)f._fbq=n;n.push=n;n.loaded=!0;n.version='2.0'; n.queue=[];t=b.createElement(e);t.async=!0; t.src=v;s=b.getElementsByTagName(e)[0]; s.parentNode.insertBefore(t,s)}(window, document,'script', 'https://connect.facebook.net/en_US/fbevents.js'); fbq('init', '2996670937328619'); fbq('track', 'PageView');