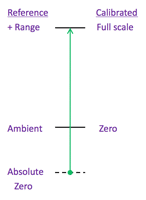 We recently caught up with Design Engineer Elden Tolman to ask him a few questions about absolute pressure, how it works, when it's used, and some of the pros and cons of this pressure type. Elden works on several of our pressure transducer designs.
He kindly took a few moments of his busy schedule to answer our questions. His response follows:
How it works
An absolute pressure sensor is made when the area where the gages (sensing elements) are placed has been sealed air-tight while under a vacuum, creating a sealed vacuum chamber. The vacuum pressure in this chamber then becomes the permanent internal reference pressure of the sensor.
The theory is that once all the molecules are removed from the chamber, there can be no expansion effect in the chamber based on atmospheric pressure changes. This is called absolute zero. All pressure induced changes on the sensor are measured against absolute zero inside the sealed chamber. This is done specifically so that the sensor will be sensitive to changes in atmospheric pressure.
When to use it
Because it is designed for sensitivity to atmospheric changes, it is most commonly used for lower pressure ranges of 500 psi and below - where it can have a relevant effect on pressure readings. Care should be taken for pressure ranges greater than 1000 psi, to make sure that variations caused by changes in atmospheric pressure are larger than the allowed error of the sensor.
As the pressure range of the sensor increases the effect of atmospheric change diminishes.
Absolute pressure transducers and digital gauges are frequently used in laboratory applications and where barometric readings are needed. Examples include airports, weather stations, and scientific laboratories.
Pros and Cons
The list of pros include:
subject to atmospheric pressure changes
no venting is required
the transducer is protected from moisture and dust
The list of cons include:
Irrelevant in high pressure ranges
Contact us if you have any questions about absolute pressure transducers and gauges. We're happy to help out!

> !function(f,b,e,v,n,t,s) {if(f.fbq)return;n=f.fbq=function(){n.callMethod? n.callMethod.apply(n,arguments):n.queue.push(arguments)}; if(!f._fbq)f._fbq=n;n.push=n;n.loaded=!0;n.version='2.0'; n.queue=[];t=b.createElement(e);t.async=!0; t.src=v;s=b.getElementsByTagName(e)[0]; s.parentNode.insertBefore(t,s)}(window, document,'script', 'https://connect.facebook.net/en_US/fbevents.js'); fbq('init', '2241001876219184'); fbq('track', 'PageView');
> !function(f,b,e,v,n,t,s) {if(f.fbq)return;n=f.fbq=function(){n.callMethod? n.callMethod.apply(n,arguments):n.queue.push(arguments)}; if(!f._fbq)f._fbq=n;n.push=n;n.loaded=!0;n.version='2.0'; n.queue=[];t=b.createElement(e);t.async=!0; t.src=v;s=b.getElementsByTagName(e)[0]; s.parentNode.insertBefore(t,s)}(window, document,'script', 'https://connect.facebook.net/en_US/fbevents.js'); fbq('init', '2996670937328619'); fbq('track', 'PageView');