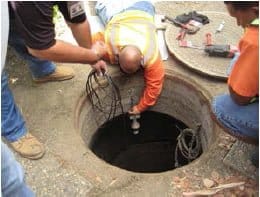 A power failure caused a near disaster in the city of West Covina, CA on May 15, 2012. Sewer pumps no longer had power to keep the sewage at a safe level. An overflow was simply a matter of time.
However, this time would be different. Almost a year earlier, in July 2011, D&D Engineering installed a sewer level monitoring system, called the SL100. The system consists of a data logger, cellular data modem, back-up battery, and an ultrasonic liquid level sensor from APG (the LPU-2428 to be specific).
"The SL100," powered by our ultrasonic sensor, "performed as expected. Email notifications were automatically sent to the City of West Covina maintenance employees as the level began to rise. This gave the city time to dispatch a portable generator to get the pumps back on line and prevent a major spill."
Preventing the spill has kept West Covina residents safe from hazardous sewer contaminants, preserved the environment, and saved tens of thousands of dollars in fines and clean-up expenses.
Thanks to D&D Engineering for the photos!


> !function(f,b,e,v,n,t,s) {if(f.fbq)return;n=f.fbq=function(){n.callMethod? n.callMethod.apply(n,arguments):n.queue.push(arguments)}; if(!f._fbq)f._fbq=n;n.push=n;n.loaded=!0;n.version='2.0'; n.queue=[];t=b.createElement(e);t.async=!0; t.src=v;s=b.getElementsByTagName(e)[0]; s.parentNode.insertBefore(t,s)}(window, document,'script', 'https://connect.facebook.net/en_US/fbevents.js'); fbq('init', '2241001876219184'); fbq('track', 'PageView');
> !function(f,b,e,v,n,t,s) {if(f.fbq)return;n=f.fbq=function(){n.callMethod? n.callMethod.apply(n,arguments):n.queue.push(arguments)}; if(!f._fbq)f._fbq=n;n.push=n;n.loaded=!0;n.version='2.0'; n.queue=[];t=b.createElement(e);t.async=!0; t.src=v;s=b.getElementsByTagName(e)[0]; s.parentNode.insertBefore(t,s)}(window, document,'script', 'https://connect.facebook.net/en_US/fbevents.js'); fbq('init', '2996670937328619'); fbq('track', 'PageView');