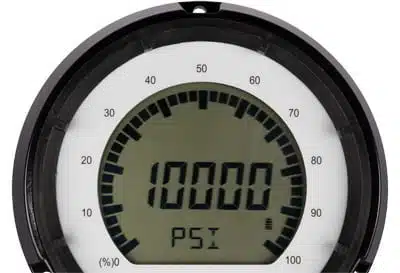 Pressure gauges come in two basic types, digital and analog (a.k.a. dial). When we contemplate the advantages of each, and how they serve our customers, we just have to go with digital pressure gauges.
Effectively, the only advantage of a dial pressure gauge is cost. They are less accurate, harder to read, and worst of all, they have virtually no user interface.
A User Interface is the use of input devices and software to interact with an instrument. Having a user interface is important because it lets the user program features as needed. It offers flexibility and customization.
Let's break down the different features offered by each type of pressure gauge in their respective user interface.
Dial Gauges
We want to give credit where credit is due. There are a few things that dial gauge manufacturers have done to give their pressure gauges something close to a user interface:
Peak Hold
A second dial is installed that holds the peak pressure, or stays at the highest pressure reading.
Additional Units of Measure
Printing a second measurement scale on the face of the gauge.
Flutter Reduction
Filling the gauge face with glycerin reduces flutter, from both rapid pressure changes and physical vibration.
While these simple solutions have served industry well for many years, when compared to the features on one of our digital pressure gauges, they seem pretty basic.
Digital Pressure Gauges
Going digital gives us the opportunity to program a user interface into our digital pressure gauges. We've been able to add selectable/programmable features such as:
Max/Min Readings
Switches between the maximum and minimum readings. Can be reset when needed.
Peak Hold
Can be turned on and off. Shows only the highest pressure since the feature was activated.
Tare
Temporarily sets the current pressure to zero. Useful when measuring a change of pressure.
Custom Units of Measure
Standard options are psi, bar, mbar, kPa, MPa, inH2O, cmHg, mmHg, inHg, kg/cm2, ftH2O. Custom multipliers can be added.
Pressure Range Bar Graphs
Set to the operating pressure range to give operators a quick read relevant to the specific application.
Flutter Reduction
Can adjust sample rate to 'smooth' flutter out. Physical vibration does not affect readings on digital pressure gauges.
There are several more, but these are all accessible with the push of a few buttons, navigating through an easy-to-use menu system. We've even made several videos showing you how to do it.
All of the features shown above are standard in each of our digital pressure gauge models: the PG5, PG7, and PG10. These features make up the foundation for our digital gauge platform, and are essentially what you get with the PG5.
The PG7 and PG10 build upon this foundation, adding functionalities such as longer battery life, improved enclosure protection, additional outputs, switch points for control, and larger displays.
We hope you've enjoyed this sneak peak into the Lab at APG. Let us know if you have any questions about our digital pressure gauge models, or how we're advancing pressure gauges in general.

> !function(f,b,e,v,n,t,s) {if(f.fbq)return;n=f.fbq=function(){n.callMethod? n.callMethod.apply(n,arguments):n.queue.push(arguments)}; if(!f._fbq)f._fbq=n;n.push=n;n.loaded=!0;n.version='2.0'; n.queue=[];t=b.createElement(e);t.async=!0; t.src=v;s=b.getElementsByTagName(e)[0]; s.parentNode.insertBefore(t,s)}(window, document,'script', 'https://connect.facebook.net/en_US/fbevents.js'); fbq('init', '2241001876219184'); fbq('track', 'PageView');
> !function(f,b,e,v,n,t,s) {if(f.fbq)return;n=f.fbq=function(){n.callMethod? n.callMethod.apply(n,arguments):n.queue.push(arguments)}; if(!f._fbq)f._fbq=n;n.push=n;n.loaded=!0;n.version='2.0'; n.queue=[];t=b.createElement(e);t.async=!0; t.src=v;s=b.getElementsByTagName(e)[0]; s.parentNode.insertBefore(t,s)}(window, document,'script', 'https://connect.facebook.net/en_US/fbevents.js'); fbq('init', '2996670937328619'); fbq('track', 'PageView');