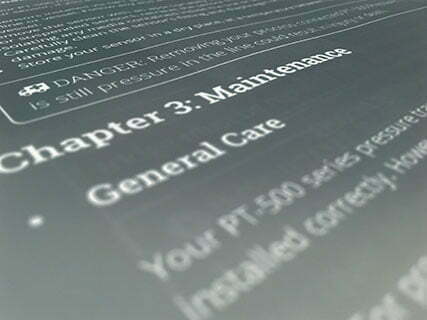 In our on-going quest to bring you an outstanding experience with our sensors and controllers, we are in the process of redesigning and rewriting our technical documentation. We are giving our user manuals a thorough overhaul and we've created a new installation guide that will eventually be included with every shipped sensor and controller.
Here are some of the new features of these documents:
User Manuals – Design Matters
Let's be honest: nobody reads user manuals for fun. They aren't read cover-to-cover like a book, nor are they perused like magazines. We read user manuals to find specific answers to specific questions. With this in mind, we approached our new user manuals with three goals in mind:
completeness of information,
ease of locating information,
and ease of understanding information.
These goals led to a new visual scheme: a cleaner, clearer layout with easier-to-read text; better text-to-visuals interaction; and a consistent flow of information across all products. It's one thing to jam a bunch of information in a document and call it a manual; it's quite another process to make sure all that information is organized consistently, is clearly communicated, and is easy to find.
It's said we eat with our eyes first, that we make decisions and form opinions about our food based on what we see, before we've even taken a bite. This is true of reading as well: before we read a single word on a page, we've already made subconscious judgments about the information that may or may not be on that page—or even the entire document—based on the layout of the text, arrangement of pictures or diagrams, and the degree to which we find these arrangements inviting.
So we chose our fonts, visual cues for headings and lists, even the white space around our text and graphics to make the manuals less intimidating. This is especially important for technical documents. Large blocks of text are intimidating in a document we already don't want to read.
So we've tried to limit the amounts of text that congregate in or manuals by breaking long, single paragraphs into multiple paragraphs, adding pictures and diagrams to help clarify ideas, and pulling critical information into specific callouts: Note, Important, and Danger.
We've also established a consistent order for the chapters in our manuals. You can expect the same kind of information to appear in the same places in user manuals across product lines. The Table of Contents not only gives chapter titles and pages, but also the main headings within each chapter. Again, this helps you, the end user, find the information you are looking for quickly.
Installation Guides – Vital Information
Speaking of finding the information you are looking for, when it comes to getting your new sensors or controllers installed and running, we've got just the thing: our new Installation Guides. Each guide is a slightly-larger-than-ledger sheet of paper printed front and back with just the information you need to get going.
Dimensions?
Pinout tables and wiring diagrams?
Hazardous location certification and installation instructions?
Physical installation, removal, and maintenance guides?
We've even included a scannable QR code so you can bring up the user manual as a pdf on your mobile device. In short, everything you could want to know is in the User Manual, but only what you need to know to get started is in the Installation Guide.
We're still in the process of converting our user manuals, but you can always find the latest and greatest version at www.apgsensors.com/support. You'll also be able to find installation guides as they become available, and datasheets.
Questions? Comments? Concerns? Let us know! We want to hear from you.

> !function(f,b,e,v,n,t,s) {if(f.fbq)return;n=f.fbq=function(){n.callMethod? n.callMethod.apply(n,arguments):n.queue.push(arguments)}; if(!f._fbq)f._fbq=n;n.push=n;n.loaded=!0;n.version='2.0'; n.queue=[];t=b.createElement(e);t.async=!0; t.src=v;s=b.getElementsByTagName(e)[0]; s.parentNode.insertBefore(t,s)}(window, document,'script', 'https://connect.facebook.net/en_US/fbevents.js'); fbq('init', '2241001876219184'); fbq('track', 'PageView');
> !function(f,b,e,v,n,t,s) {if(f.fbq)return;n=f.fbq=function(){n.callMethod? n.callMethod.apply(n,arguments):n.queue.push(arguments)}; if(!f._fbq)f._fbq=n;n.push=n;n.loaded=!0;n.version='2.0'; n.queue=[];t=b.createElement(e);t.async=!0; t.src=v;s=b.getElementsByTagName(e)[0]; s.parentNode.insertBefore(t,s)}(window, document,'script', 'https://connect.facebook.net/en_US/fbevents.js'); fbq('init', '2996670937328619'); fbq('track', 'PageView');